My flying future:  Ferry Flights moving helo's around the country.
Currently I'm in a semi-retired state, however, some opportunities have come up that I'm working on thru my network of pilots that may bring on some more select flying.
Currently working more on Ferrying helicopters when needed by companies or individuals.  More on this once its more solid and I'm signed off for this companies aircraft for ferrying jobs.
I'll still be available to ferry Schweizer 300's for anyone needing one moved.  Hope to add the Bell 206B3 and AStar to this list in the near future.
More to follow soon I hope.
Golden Wings Aviation – Cherry Drying Contract in Brewster WA

Amazing opportunity for some more cherry drying, but this time in Brewster Washington. This time, I was fortunate enough to get hired by Mr. Dave Smith and his son Danny Smith flying the mighty Sikorsky S-55.  As my training in this a/c move on, I was also fortunate to be selected to fly one of the 3 turbine S-55's they have for working cherries.
Had a great year, good wet year this time and built about 40 hours flying the S-55.  Highly recommend everyone get some time in one of these.  Flying a piece of history, but boy do they make you work.  Was a tremendous time, gained valuable experience in my first wheeled helicopter, heavy and powerful.  Also met more great pilots from all over the helicopter industry.  Always a valuable asset to anyone in this industry.  Made the two months fly by pretty quick.
Thanks again to Dave & Danny Smith for the opportunity.  Hope to come up again and fly with them in the future.  Fly safe!
Canyon State Aero (Chief Pilot)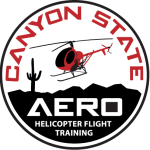 Unfortunately, Canyon State shut down in May of 2021.  Ownership retired and unfortunately no one bought the operation to keep it going.  Was a great run with Canyon State.  Last 6 years as Chief Pilot.  Met numerous amazing students from all walks of life and all over the world.  Great experience.
Canyon State Aero offers personalized Part 61 flight training on the Schweizer 300C, R22/R44 and Cessna 172's.
In addition to my duties as Chief Pilot, I manage eight contract pilots and three S300C helicopters, an R44/R22 Helicopter, 2 Cessna 172's.  Liaison between flight training, commercial operations and maintenance is critical to meeting our flight schedules.
Hat Creek Aviation (Cherry Drying Contract~Wenatchee WA)
Opportunity to fly a Bell UH1-B Huey.  Was a Vietnam Era helo that was pretty exciting to fly.  After my training in the Huey, I went to Wenatchee Washington on a cherry contract.
Unfortunately, it turned out to be one of the driest summers on record, no rain, so no cherries to try.  Didn't fly a whole lot but was a great summer, met some great colleagues in the utility industry that I still keep in touch with.  Hope to get up and do that kind of flying again on a nice wet monsoon style summer up there again soon.
Thanks again to David Huddler for the opportunity to fly his history UH-1B.  Was a real treat!
Fly Safe
Bratcher Aviation (Ground Handling Officer)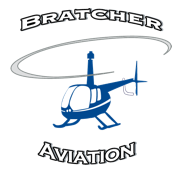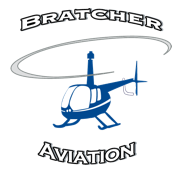 Bratcher Aviation offers a variety of commercial helicopter services. I managed ground safety operations for helicopter fly-in events.